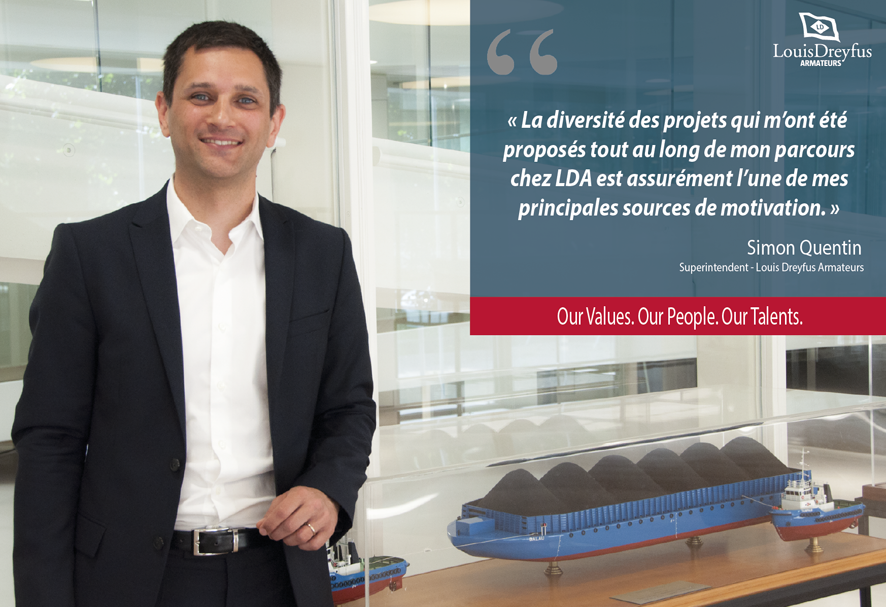 2 July 2018
Welcome aboard !
The Louis Dreyfus Armateurs Group is evolving. We are now reorganized into three business divisions offering great career opportunities in logistics & transport, dry bulk and marine industrial solutions, on land or at sea.
Our 2,600 shore-based and ship-based personnel located around the world are our wealth and our pride by their training, their careers, their personalities, their visions of the world and their cultural diversities. We are proud to share with you today a series of interviews of our team members.
We begin with the interview of Simon Quentin, Superintendent at the Technical Department of Louis Dreyfus Armateurs who has recently joined our subsidiary LD Ports & Logistics as Technical Manager and will be moving to Dubai this summer…
Watch the interview (video): https://youtu.be/sQO-ZdITO8U
Read the interview below :
Question 1 - Pourriez-vous nous résumer votre parcours et nous parler de votre poste actuel ?
Je suis rentré chez Louis Dreyfus Armateurs il y a 16 ans comme élève officier dans le cadre de ma formation à l'Ecole Nationale de la Marine Marchande. J'ai ensuite travaillé 10 ans en rotation sur différents navires de la flotte LDA (navires de prospection pétrolière, transport de pièces pour Airbus) jusqu'à atteindre le poste de Chef mécanicien. Il y a 5 ans, j'ai rejoint le service technique au siège de LDA à Suresnes en tant que Superintendent. Ce poste consiste à assurer le suivi technique des navires de poses de câbles sous-marin dont j'ai la charge. 

Question 2 :  Quelle va être votre évolution au sein du Groupe Louis Dreyfus Armateurs ?
Le Groupe me propose un nouveau challenge professionnel  au sein de sa filiale Port & Logistics. 
Après quelques mois avec les équipes basées à Suresnes en tant que project manager, je vais être expatrié avec ma famille à Dubaï pour occuper dès cet été le poste de « Technical Manager » de l'entité locale. Je serai en charge de la mise en place du service technique qui doit assurer le suivi d'une flotte de barges et de grues flottantes pour un nouveau projet.  

Question 3 :  Quelles sont vos principales sources de motivation au sein du Groupe Louis Dreyfus Armateurs ?
La diversité des projets qui m'ont été proposés tout au long de mon parcours chez LDA est assurément l'une de mes principales sources de motivation. Que ce soit pendant ma période de « naviguant » où depuis que je travaille au siège, je n'ai jamais connu la routine ou la monotonie ! 
Le fait que beaucoup de ces projets aient eu lieu à l'international est aussi une source de motivation. Cela m'a permis d'aller travailler dans de nombreux pays pour des périodes plus ou moins longues et d'enrichir ainsi mon expérience professionnelle.   
 
Copyright : Louis Dreyfus Armateurs
Crédit photo : Louis Dreyfus Armateurs