Our Environmental Policy
Both the employee individual behavior of each employee and the maritime operations are inseparable from environmental protection. This remains a key challenge for Louis Dreyfus Armateurs. Based on the risks and opportunities assessment, which are an integral part of the QHSE Management System, our objectives are to avoid pollution and accidental dumping at sea, reduce our environmental impact and perfect our waste recycling recovery system.
Environmental Management System
We are committed to continually improving our Environmental Management System and to:
Being compliant with current environmental conventions, customer requirements and other applicable requirements. International regulations are strictly respected in all activities and each vessel has dedicated management plans. Our Environmental Management System meets the ISO 14001 requirements;
Identifying and analyzing environmental aspects and impacts and implementing the necessary preventive and corrective actions to control the most significant risks;
Sensitizing all employees to respect the environment;
Involving everyone. The contribution of every employee, both onshore personnel and seafarers to QHSE management system is crucial to minimize our environmental impact.
A sustainable management of the fleet
The Group is committed to identifying and analyzing the environmental aspects and impacts and to putting in place the necessary preventive and corrective actions. Thanks to careful and responsible operation of its fleet, Louis Dreyfus Armateurs contributes to the pursuit of sustainable development objectives.
To do this, for more than 5 years, the technical teams have been working with the company Optemar to train and teach our mechanical officers the fundamentals of diesel combustion. It lead to :
– the development and deployment of two software programs MyOpteLog and MyOpteMar thanks to which we monitor machine and engine parameters. One of the functions is also to alert the command post in the event of abnormal deviations according to predefined parameters.
– The implementation of the My OPTE Board digital platform, which aims at improving the use of engine performance. This constantly improved platform makes it possible to monitor the indicators and also to advise and help engineer officers remotely in the conduct of their engine performance at sea.
This cooperation has resulted in reduced fuel consumption and emissions. In one year, our ships have saved nearly 4,300 tons of CO2.
The Blue Charter
Louis Dreyfus Armateurs signed the Blue Charter, created in 2003 and driven by Philippe Louis-Dreyfus under his mandate. The Charter affirms French Shipowners' commitment to go about their business in a way that is sustainable and environmentally-friendly.
Read more about the Blue Charter: click here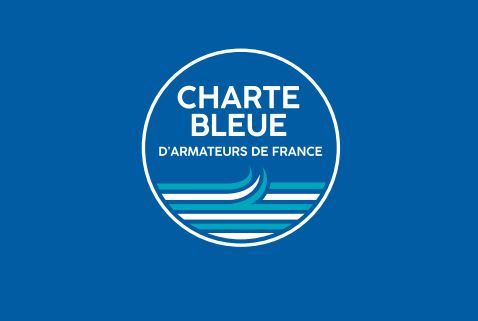 2020 edition of the Blue Charter of French Shipowners
Louis Dreyfus Armateurs is awarded this year the Special Jury Prize for "its commitment to the global energy transition of the maritime sector, through the speed limit fight carried out by Philippe Louis-Dreyfus for many years…"
Read full press release on Armateurs de France's website: click here.
Sustainable Development Week and World Environment Day
The Louis Dreyfus Armateurs Group celebrates the Sustainable Development Week and the World Environment Day.
In 2019, plenty of environmental actions have been implemented during this period focusing on our commitment and best professional and personal best practices.
Philippe Louis-Dreyfus's interview: Fighting for Slow Steaming for many years;
Environmental best practices on land and at sea;
An eco-citizen signboard reflecting our good practices!;
Short movies on ecology: "Demain", "Home", "Planète & Co";
A 100% eco-friendly lunch buffet in Suresnes!;
Special "Environmental Issues" Quiz (by Kahoot)
Save the dates : To keep engaged all year round, best apps to download such as Yuka, 90 jours, We act for good, Zero Waste, Clean Beauty, Le Guide du tri.