INNOVATION DRIVING GROWTH
1957 : At St Nazaire were launched two new all-aft vessels with a capacity of 11,280 dwt designed for bulk cargoes and vehicle transportation on the great Canadian lakes. They were Louis LD  (III) and Jean LD (II).
A long term contract signed with Biscore (British Steel) motivated the development of Philippe LD (II) at Grand Quévilly. It was an ore carrier with an all-aft design and a shallow draft specifically developed for the British ports.

1958 : An old Doxford type vessel built in 1940 becomes La Bahia, while another Sunderland type vessel is renamed La Costa. Two sister ships are built at the Normandie shipyards specifically developed for the Biscore contract, and the shallow draft ports of England: Philippe LD (IV) and La Colina. This same year began in Spain La Selva's building, a 13,000t dwt vessel with a shelter deck for cars. The vessel La Falda originally owned by Montship, was transferred to the Buries Markes fleet. The following ships to be built were La Marea in 1958, La Loma (II) and La Laguna (II) in 1959; both delivered by Bartram & Sons.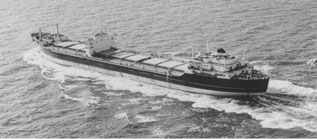 1960 : At the same moment, four identical vessels with a 13,600 dwt were launched at the Seyne-sur-Mer: La Estancia (IV), LaSierra (II), La Primavera and La Hortensia. La Sierra (II) was equipped with a Buhler type tank and an automatic treadmill mechanism designed to unload grain and other bulk cargoes. The 1961 built François LD (IV) is renamed La Hacienda (II).
1961 : Three new 34,000 dwt vessels built between 1961 and 1963 entered the fleet: Charles LD (III), Pierre LD (III), Gérard LD (II). They became better known as "Dunkirk's ore carriers" because of their long term allocation to supply the French metallurgical plant of USINOR. These ships with engines aft are very peculiar with their thin bridges placed at the gyration center.
1962 : LD, already owning Montship, takes control of the GENS fleet operated under the name Capo Line. The company was founded by the Cerni group based in Genoa, and then sold to the Vatican to rapidly become the property of one of its commercial banks, the GENS (Gestioni Esercizio, Navi Sicilia). Operating on the same regular line as Montship (Canada-Europe), the two companies naturally became partners in a common service, Montship/Capo Line.
1963 : The La Ciotat shipyard launches François LD (V), a 24,700 dwt third generation vessel designed by Procacci for trading on the newly opened seaway of the North American Great Lakes, taking steels in and exporting grain. An identical vessel is launched at La Ciotat for Buries Markes : La Chacra (II) later renamed Lake Biwa.
Montrose (III) is the last vessel to enter the fleet.