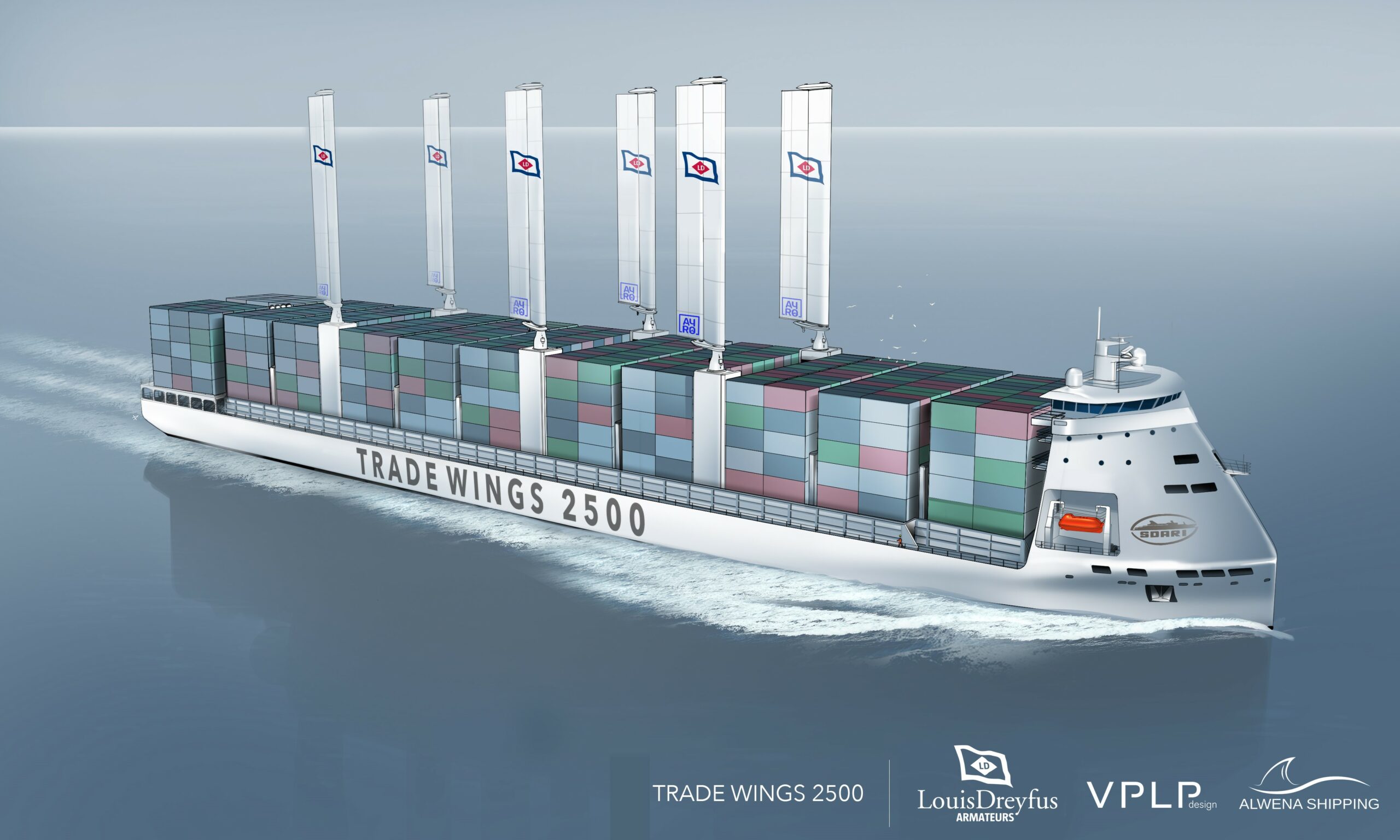 1 June 2023
Louis Dreyfus Armateurs (LDA), VPLP Design (VPLP) and Alwena Shipping (Alwena) have signed a Memorandum of Understanding (MoU) to form an Alliance. In this partnership, LDA will identify, develop, and pursue selected logistics solutions operated by wind assisted/propelled pure container ships designed and developed by VPLP and Alwena.
Suresnes, France – June 1st, 2023 - Louis Dreyfus Armateurs' subsidiary LD Freight Solutions (LDFS), a 3PL freight forwarder with strong knowledge and skills in transport and logistics involving specific maritime solutions, has called on VPLP Design and Alwena Shipping to develop a wind assisted/propelled container ship solution. It is based on the Trade Wings 2,500 - an innovative concept for "small-size" container ships of 2,500 TEU. With an overall length of 197m and a breadth of 32m, the vessel offers a deadweight of 32,500 tons. Suitable to short sea shipping operations or feedering in Europe, Central America, Caribbean Islands and China, the Trade Wings 2,500 can also operate on transatlantic trades and be tailored to meet the Clients' requirements and volumes.
The preliminary project which has been granted an approval in principle (AiP) by Bureau Veritas runs on a hybrid propulsion comprising of six wing sails and a diesel-electric system. It is also designed to burn clean fuels such as liquefied natural gas (LNG) or methanol.
On a typical transatlantic voyage, we can expect to save on average 35% CO2-equivalent emissions compared to a conventional design, with a 2-stroke engine, single shaft and without wingsails, at the same speed. This concept sets the pathway for what could be the low emissions container vessels of the near future.
«We are very pleased to establish a partnership with Alwena and VPLP.", said Mathieu Muzeau, Transport & Logistic General Manager, Louis Dreyfus Armateurs. «It is fully aligned with the LDA strategy to accelerate shipping's decarbonization, and especially linked to the innovations we are implementing such as the use of wind-propulsion systems and alternative fuels. »
« We are pleased to see that our self-financed work on the Trade Wings 2,500 TEU, at that time developed also with our partner SDARI in Shanghai, receives again traction with LDFS." said Ludovic Gérard of Alwena Shipping. "We are continuing the development works to suit LDFS expectations and we expect some project to materialize soon", added Simon Watin of VPLP Design.
Download