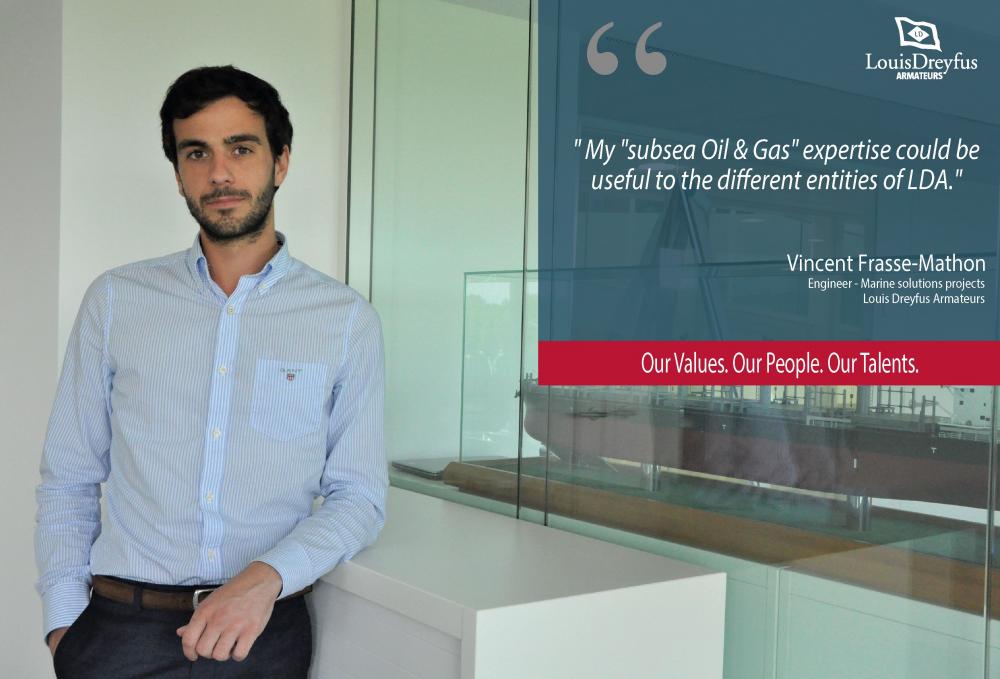 30 August 2018
Welcome aboard !

The Louis Dreyfus Armateurs Group is evolving. We are now reorganized into three business divisions offering great career opportunities in logistics & transport, dry bulk and marine industrial solutions, on land or at sea.
Our 2,600 shore-based and ship-based personnel located around the world are our wealth and our pride by their training, their careers, their personalities, their visions of the world and their cultural diversities. We are proud to share with you today a series of interviews of our team members.
Let's follow with the interview of Vincent Frasse-Mathon, in charge of Marine Solutions Projects for Louis Dreyfus Armateurs...
Our  Values. Our People. Our Talents.

---------------------------------------------------------------------------------------------------------
Read the interview below :
1/ Can you sum up your career and tell us about your current position?
After obtaining my engineering diploma in 2012, I joined Technip Norway for submarine installation in the oil industry.
I had the opportunity to write installation procedures involving many aspects of the offshore environment: power cable laying, submarine structure, offshore heavy lift and even installation of floating wind turbines. It was a very enriching experience that allowed me to acquire a strong offshore operational background.
After these 6 years in Norway, I had the opportunity to join LDA in order to develop the submarine installation division and to extend the solutions portfolio of the Marine Industrial Division.

2 / How will evolve your position within the Group?

Although I have recently joined LDA, I get already involved in several projects simultaneously (linked to LD Ports & Logistics, RME, Marine Industrial Solutions and even with ASN).
From the beginning, I've noticed that my "subsea Oil & Gas" expertise could be useful to the different entities of LDA.
I'm expecting a lot regarding my integration as my position consists of learning from the know-how of all departments in order to reply more efficiently to call of tenders.
In the end, I hope that will develop our services in the  Subsea world because there is so much to do.

3 / What are your main sources of motivation within the Group?

It's extremely motivating to be in a situation where everything remains to be done.
As everyone knows, the oil market is recovering, and now that our strategy is in place, we will be able to develop our customers'reputation.
Being a French partner with a strong maritime background will allow us to become a major actor in a few years. Things can go very fast.
Copyright: Louis Dreyfus Armateurs
Photo credit: Louis Dreyfus Armateurs