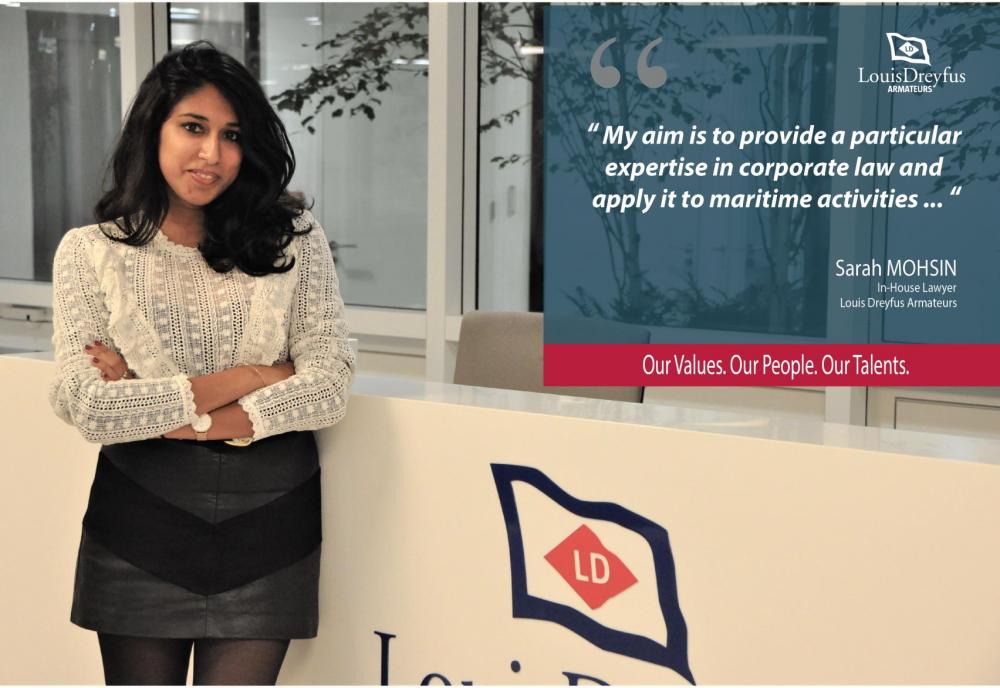 13 February 2019
Welcome aboard!
The Louis Dreyfus Armateurs Group is evolving. We are organized into three business divisions offering great career opportunities in logistics & transport, dry bulk and marine industrial solutions, on land or at sea.

Our 2,600 shore-based and ship-based personnel located around the world are our wealth and our pride by their training, their careers, their personalities, their visions of the world and their cultural diversities. We are proud to share with you today a series of interviews of our team members.

Let's follow with the interview of Sarah Mohsin, In-House Lawyer at LDA...

Our  Values. Our People. Our Talents.

--------------------------------------------------------------
Interview with Sarah
1/ Could you give us a brief summary of your background?
After 8 years of law studies - I hold Master's degrees in Corporate Law and Common Law and attended the Paris Bar School - I obtained a certificate to practice law.

I began my career in 2013 at a law firm specialising in corporate law, mergers and acquisitions.  My role was to advise companies on the legal aspects of their business and on major investment, acquisition and restructuring operations. 

After 5 years of practice as a lawyer, I decided to get into the corporate world, so that I could bring my experience to a single entity.
2/ What is your current position and what has your experience been like at Louis Dreyfus Armateurs?
I am In-House Lawyer at the Legal & Insurance Department. Since joining the company I have been directly involved in a number of key projects, while managing LDA's and its subsidiaries' corporate affairs.

I have had the opportunity to work on many development and partnership projects not only in France but also at an international level.
The daily legal needs and demands of each department in the company are another significant part of the work.

I have been able to broaden my skills in relation to charterparties, contractual relationships, real estate litigation and intellectual property.
3/ Which aspects do you find most stimulating in your job with LDA?
The maritime sector is still new to me and taking it in everyday has been a most rewarding challenge. My aim is to provide a particular expertise in corporate law and apply it to maritime activities to best meet the company's evolving challenges and demands. 

The legal team at LDA is quite new but highly experienced.  We are striving to have our work and expertise acknowledged and benefiting everyone in our company, which is very stimulating.
See also our page 'Careers':
https://www.lda.fr/en/careers/
Copyright: Louis Dreyfus Armateurs