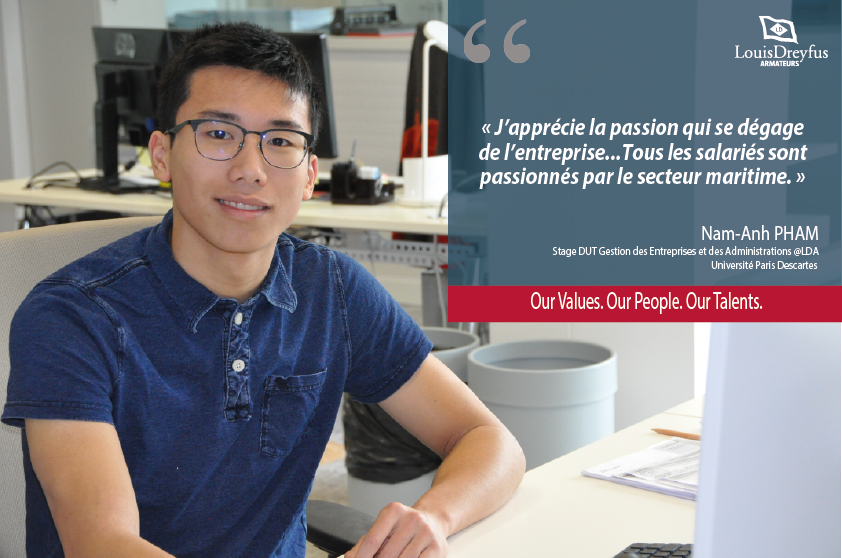 10 July 2018
Welcome aboard!
Watch out! Future Talents... ! We are pleased to share a series of inspiring testimonials from our trainees who choose to join the shipping industry and our Group during an internship period...
This is the start of a  career path and a future success story for our trainees…This is a valuable exchange of experience with our future talents. Just keep following!
#myLDAinternship

Our values. Our People. Our Talents.
------------------------------------------------------------------------------------------------------

Read the interview with Nam-Anh Pham (see below) :
Question 1 - Quel est ton parcours et pourquoi as-tu choisi de rejoindre le Groupe Louis Dreyfus Armateurs pour ton stage ?
A l'issue de mon BAC scientifique, j'ai intégré le DUT Gestion des Entreprises et des Administrations à l'Université de Paris Descartes. Cette formation, très générale, touche à tous les domaines de la gestion financière, comptable, marketing etc… Je me suis tourné vers la gestion logistique en raison de mon intérêt pour le domaine et des perspectives d'avenir que peut offrir le métier. Le DUT est résolument professionnalisant et propose à ses étudiants de partir en stage afin de se faire une idée du monde du travail.
Le dernier semestre du DUT inclut 3 mois de formation en entreprise. Lors de ma recherche de stage, j'ai eu l'occasion de discuter avec le DRH de LDA lors d'un « stage dating » organisé par ma ville. Sa présentation de la société et de ses activités m'a séduit. Le monde maritime est un secteur qui m'a toujours intéressé. C'est donc tout naturellement que j'ai postulé pour un stage en logistique.

Question 2 :  Quelles sont tes missions ?
Pendant 3 mois, j'assiste l'expéditeur du service technique dans son travail. Mes missions sont variées et interviennent sur l'ensemble de la supply chain. J'organise l'ensemble des expéditions de pièces de maintenance destinées aux navires câbliers et rouliers. J'interagis avec les navires et coordonne les différents intervenants liés aux transports, à la logistique et à la douane. J'assure l'empotage et le dépotage de conteneurs maritimes, ainsi que le dispatch des cargaisons reçues, entre nos différents entrepôts. Enfin, ma mission consiste aussi à suivre l'entreposage des pièces et approvisionnements reçus en bout de supply chain.

Question 3 :  Qu'apprécies-tu plus particulièrement chez Louis Dreyfus Armateurs ?
J'ai apprécié la passion qui se dégage de l'entreprise : tous les salariés sont passionnés par le secteur maritime. Certains sont d'anciens marins, d'autres ont fait germer cet intérêt en travaillant ici. J'ai d'ailleurs pu visiter un des navires au port de Saint-Nazaire : La Chesnais. Cette passion se ressent dans l'implication du service entier et dans les discussions extra-professionnelles. Je me suis aussi intéressé à l'histoire de  cette entreprise centenaire qui est très intéressante.
 Je dispose d'une grande autonomie grâce à la confiance accordée par mon tuteur. Bien qu'assez déstabilisant au début, ce stage n'en est que plus formateur. J'ai aimé l'interaction avec les agents à l'international, les entrepôts, les navires et les autres personnes qui composent le service et l'entreprise.
Très bonne continuation !
Copyright : Louis Dreyfus Armateurs
Crédit photo : Louis Dreyfus Armateurs