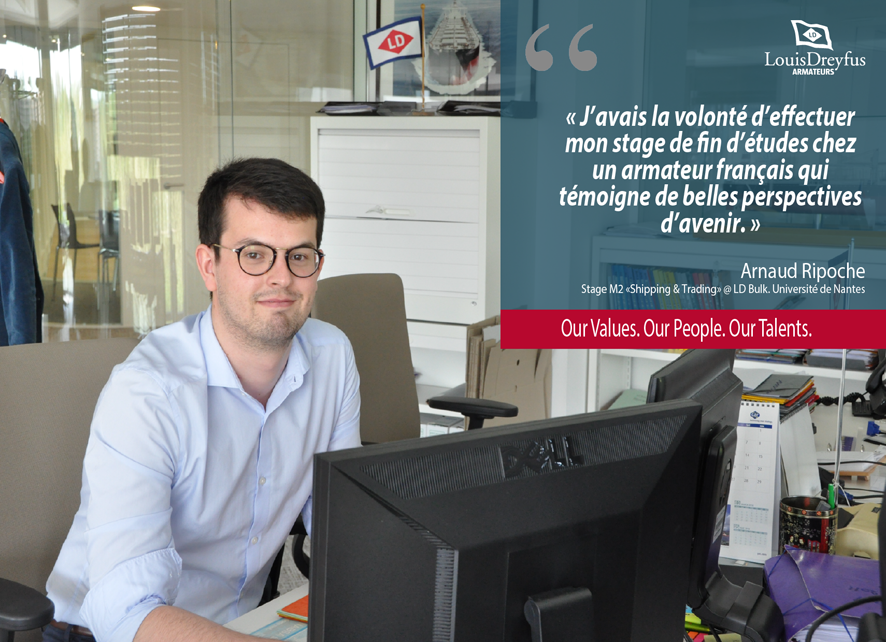 26 July 2018
Welcome aboard!

Watch out! Future Talents... ! We are pleased to share a series of inspiring testimonials from our trainees who choose to join the shipping industry and our Group during an internship period...

This is the start of a  career path and a future success story for our trainees…This is a valuable exchange of experience with our future talents. Just keep following!

#myLDAinternship

Our values. Our People. Our Talents.
------------------------------------------------------------------------------------------------------

Read the interview with Arnaud Ripoche (see below) :
Question 1 - Quel est ton parcours et pourquoi as-tu choisi de rejoindre le Groupe Louis Dreyfus Armateurs pour ton stage ?


J'ai intégré l'IAE Nantes - Économie & Management, en Licence 1 afin de me spécialiser dans le transport maritime, une formation que l'IAE de Nantes est le seul à proposer en France dès la Licence 3. Je suis aujourd'hui en dernière année de Master « MBFA - Parcours Shipping & Trading ».  Durant mon parcours, j'ai pu avoir des expériences à l'étranger qui m'ont permis de guider mes choix pour la suite. J'effectue actuellement mon stage de fin d'étude de 6 mois chez LD BULK au sein du département des opérations de navires.
J'ai choisi de rejoindre le Groupe Louis Dreyfus Armateurs car j'avais la volonté d'effectuer  mon stage de fin d'étude chez un armateur français qui témoigne de belles perspectives d'avenir.


Question 2 :  Quelles sont tes missions ?

Ma mission principale est le suivi de navires opérés par LD BULK depuis Suresnes. Cela consiste à préparer les instructions de voyage des navires selon les contrats obtenus, nommer les agents dans les ports de chargements et de déchargements, commander les soutes de manière stratégique afin de minimiser les coûts et optimiser le voyage du navire …


Question 3 :  Qu'apprécies-tu plus particulièrement chez Louis Dreyfus Armateurs ?
L'attention portée aux stagiaires, l'écoute et le partage de l'ensemble de l'équipe, l'esprit d'équipe ainsi que le cadre de travail sont des valeurs qui apparaissent naturellement chez LD Bulk. Cela présage un stage enrichissant pour la suite.
Très bonne continuation !

Copyright : Louis Dreyfus Armateurs

Crédit photo : Louis Dreyfus Armateurs