2 October 2020
Interview
Baptiste Manrot, Captain
1/ What has been your career path so far ?
I grew up in a family who has always been passionate about the sea, but I was the first one to get a job out of it. I started my career right after secondary school. In 1999, I went to a boarding school in La Rochelle to take a two-year course in marine mechanics. In 2001, I obtained an engine specialist certificate and a certificate of vocational proficiency as a third-class engineer officer. I had a summer job as a diesel engineer with engine manufacturer Wärtsilä.
I attended a preparatory class and passed the entrance exam to the Maritime Academy in Saint-Malo in 2003. In 2005, I graduated as a second-class officer in the merchant navy. I went to sea as a student with the Compagnie Maritime Nantaise (MN) and La Surf and became a versatile officer in April 2006.
I embarked for the first few months as a third engineer on the RoRo vessels carrying the Ariane 5 rocket and as a deck lieutenant on a three-masted ship named Belem.
I left the MN to join LOUIS DREYFUS ARMATEURS in 2007 and embarked directly as a third-class engineer officer on the EDOUARD LD until the end of the year. In 2008, my credentials allowed me to take a course for second-class officers to enter the last year of first-class officers' studies. During this time, I stayed on the EDOUARD LD until the ship was sold in Malaysia. I was then transferred to the bulk carrier JEAN LD in Singapore until September 2008.
In 2009, I obtained my first-class officer's diploma at the Maritime Academy in Le Havre and started to work on the cable ship LODBROG. I stayed on cable ships until 2012 when I became Chief Mate on the ILE DE SEIN. In late 2017, I joined ASN Marine to work in vessel support, then as an installation engineer, while taking part in tool design for cable operations. In November 2019, having realised I missed the sea, I went back to it as a Master on ILE D'AIX.
2/ Could you tell us more about your current role ?
I am a Master and Operation Manager. I organise operations with my crew while ensuring the monitoring and management of the vessel. This role has been very rewarding on a personal and professional level. I am proud of it and proud to represent the company on board the ship. I like the decision-making aspect of my job but also the human side – I enjoy being close to my team.
3/ What do you like the most in this job ?
Being at sea in a fast-changing environment, having the trust of my crew and being able to rely on them too.
4/ Could you name 3 must-have qualities for this job ?
Sense of responsibility / Organisation skills / Ability to stay calm.
5/ What are your hobbies and interests ?
My family, the sea - even when I am on vacation (I enjoy diving and sailing) and inventing or building things.
6/ Are you a land or sea person ?
Definitely a sea person. I have often considered living on a boat with my family.
7/ What is your motto ?
Learn from others but stay true to yourself.
8/Any anecdote or major fact you would like to share ?
I was lucky - like many others I suppose - to meet and work for a few years with someone with a strong personality: Master Dhainaut. His famous "NOWWW" will go down in history. So will the moment when, during a docking, he said over the radio to the lieutenant who was arguing that the hawser was too soft, "no, it is you who are soft".
Another memorable event was the fire on ILE DE SEIN. I was Chief Mate and I used a CO² fire extinguisher at Philippe Kervella's command. It was a sad spectacle to see the ship so damaged.
******
Thank you Captain!
[caption id="attachment_6325" align="aligncenter" width="525"]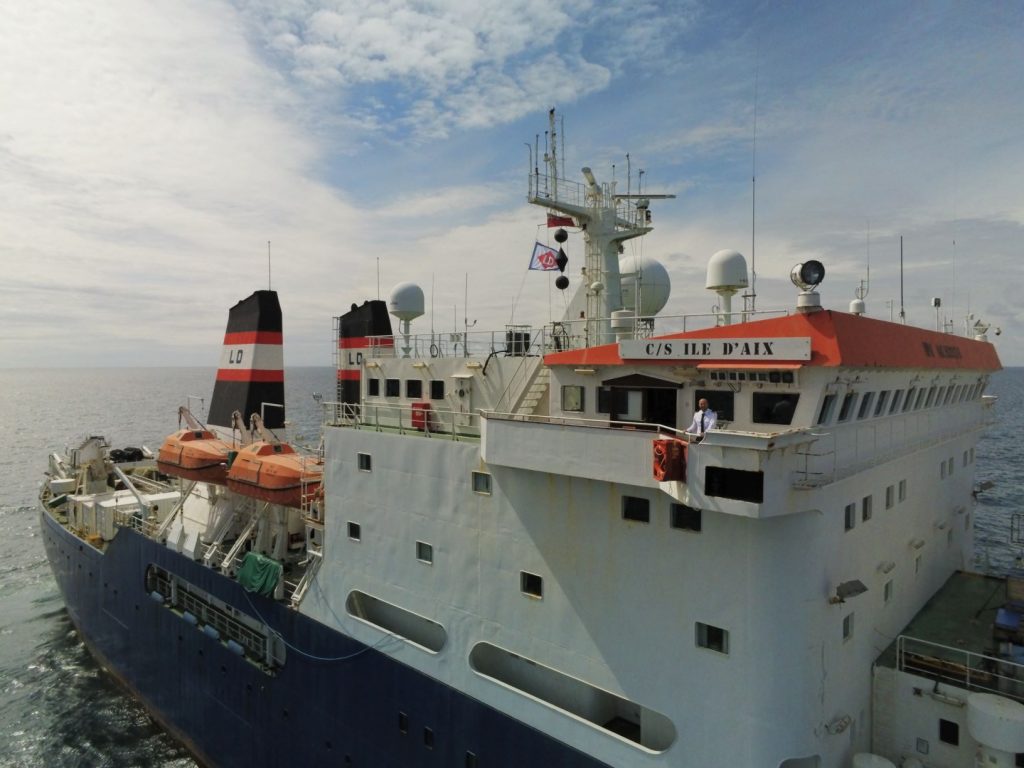 Captain Baptiste Manrot LDA on board C/S Ile d'Aix[/caption]