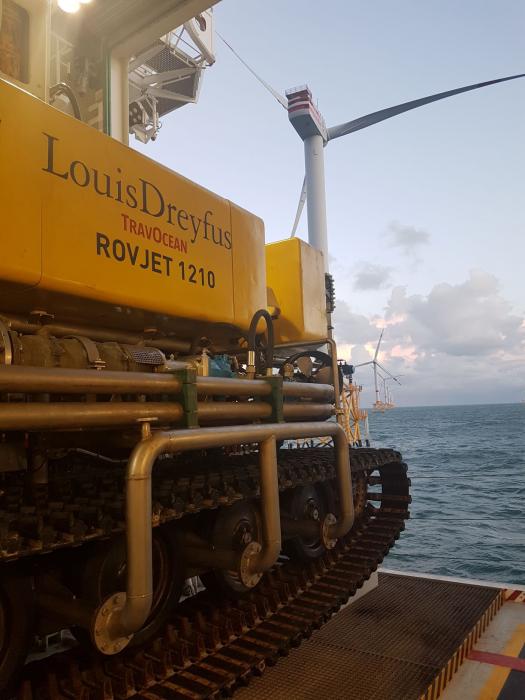 3 September 2018
Louis Dreyfus Armateurs Group is very pleased to announce that its subsidiary, Louis Dreyfus TravOcean, has secured a turnkey contract worth over €100 million for the supply and installation of the 33kV inter-array grid of one of the very first large-scale offshore windfarm in France.
Eolien Maritime France (a joint venture between the French company EDF Energies Nouvelles and the Canadian company Enbridge) has awarded Louis Dreyfus TravOcean in Consortium with Prysmian, the design, supply and installation of more than 100km of submarine cables for the Saint-Nazaire offshore windfarm.
The project consists in 80 WTGs of 6 MW to be installed on the rocky plateau of Banc de Guerande located 15km off Saint-Nazaire on the French West coast.
With 40 years of experience in the subsea cable installation, Louis Dreyfus TravOcean has developed innovative and credible solutions for the challenging installation conditions of the project. This award is not only the recognition of such expertise but also the commitment of the Louis Dreyfus Armateurs Group to actively participate to the build-up of the French and worldwide offshore wind industry. To that end, Louis Dreyfus Armateurs Group has also secured several contracts to provide Supply Offshore Vessels to renowned actors of the industry.
Full commissioning of the Saint-Nazaire windfarm is planned for 2022 provided that the last recourse be cleared of recourse in the coming weeks. 
Contact Presse
Sylvie Virasack
Responsable  Communication 
Tel: +33 1 7038 6080
Sylvie.virasack@lda.fr
Copyright: Louis Dreyfus Armateurs / Louis Dreyfus Travocean