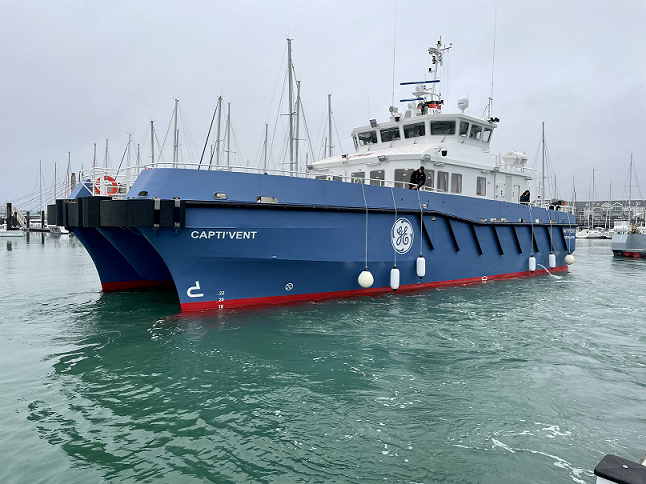 23 March 2023
The third Crew Transfer Vessel (CTV) dedicated to Offshore Wind farms operations and maintenance has been delivered to LD Tide, a joint venture between Louis Dreyfus Armateurs and Tidal Transit.
The LDA Group had been selected to provide 3 Crew Transfer Vessels for the Saint-Nazaire offshore wind farm for two clients: EDF EN and General Electric. LDA chose French companies for the design and construction of these vessels. The innovative design was carried out by MAURIC, a naval architect based in Nantes, and the construction was carried out by the French shipyard OCEA located in Les Sables d'Olonne.
The Capti'vent  has been delivered on Tuesday March 21, 2023. She joins its sisterships the Inno'vent and the Moti'vent. Two of the three CTVs are equipped with a hybrid-electric propulsion system including batteries and one is hybrid ready for a future upgrade. LD Tide operates the 3 CTVs under the French flag and is responsible for the transfer of technicians and their equipment between the coast and the wind farm for the maintenance of the wind turbines.
Located between 12 and 20 km off the coast of Loire-Atlantique, the wind turbines are installed on an overall area of 78 km². These vessels offer prime safety conditions, great operability and optimal navigation comfort to the technicians on board.
With 80 6MW wind turbines, the Saint-Nazaire wind farm offers a maximum output power of 480 MW and supplies the equivalent of the annual consumption of 700,000 people.