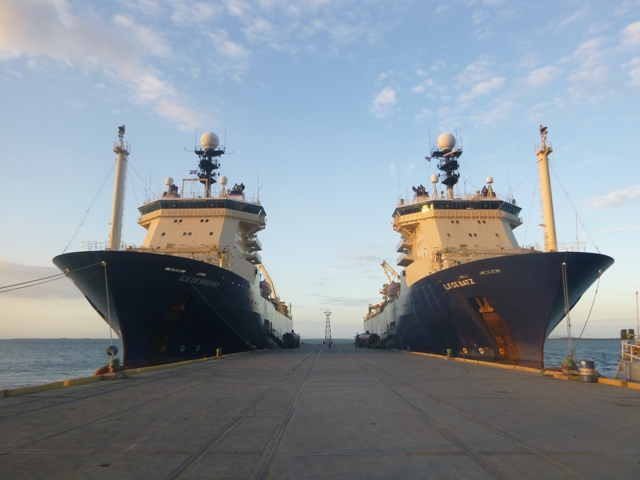 30 March 2015
Alcatel-Lucent closes transaction streamlining its cable ship operations and renewing its long term partnership with Louis Dreyfus Armateurs

Alcatel-Lucent Submarine Networks has now full ownership of the fleet and Louis Dreyfus Armateurs is retained as partner for cable ship management and fleet development

Paris, France, March 30, 2015 - Alcatel-Lucent (Euronext Paris and NYSE: ALU) and Louis Dreyfus Armateurs (LDA), a leading global player in transport and logistics, have renewed their long term partnership and streamlined their cable ship operations. With the completion of the transaction, Alcatel-Lucent Submarine Networks (ASN) has now full ownership of ALDA Marine and its fleet, while LDA remains ASN's long term partner for cable ship management and fleet development. This will allow to better answer the expected growth of the telecom market and the development of oil and gas activities.

Since the year 2000,  Alcatel-Lucent Submarine Networks (ASN) and LDA have grown a successful partnership under the joint venture ALDA Marine, building, owning and operating a fleet of cable ships. Thanks to this collaboration, ASN has positioned itself as one of the two leading turnkey players in the field of subsea telecom cable systems, with marine operations as one of ASN's key differentiators on this market.

Commenting on the transaction, Philippe Louis-Dreyfus, President of LDA said; "We are pleased to continue our partnership with Alcatel-Lucent, thus continuing a strong, long-standing and successful cooperation. This transaction will also allow us to further reinforce our strategy of partnerships with large industrial groups to ensure our marine services are always at the forefront."

Philippe Dumont, President of Alcatel-Lucent Submarine Networks added: "As we enter in an upward cycle of submarine cables constructions, streamlining operations provide a simpler governance model, ensure the excellence of our marine operations and deliver financial benefit to the company."

About Alcatel-Lucent Submarine Networks' fleet
Alcatel-Lucent Submarine Networks is the world leader in submarine cable systems. Its fleet of seven cable ships is manned by qualified, experienced teams, and is strategically located around the world to serve customers where they are needed. The fleet is dedicated to installing and maintaining submarine cable networks, with best-in class equipment for high-quality and reliable services. This includes high engine power, thrusters and dynamic positioning to maintain position and work in almost any weather conditions; high-tow force and heavy-duty ploughs for cable burial and cable-lay control systems; Remotely Operated Vehicles (ROVs) for installation and maintenance and fully redundant GPS navigation and positioning systems that provide real-time vessel positioning to an accuracy of better than ± 10 meters. For more information, please visit http://www.alcatel-lucent.com/solutions/submarine-networks


ABOUT LOUIS DREYFUS ARMATEURS
Louis Dreyfus Armateurs (LDA) is a French family Group engaged in maritime transportation and services and founded more than 160 years ago. Able to offer its dry bulk chain customers a full range of services, LDA is a leading global player in transport and logistics. As an inventive port operator, LDA Group is a valued partner for logistics innovation worldwide. Thanks to strategic diversification conducted since the mid-90s into high added value maritime activities and through the excellence of the French flag, LDA now offers its clients tailor-made industrial maritime solutions. For more information, please visit http://www.lda.fr
LOUIS DREYFUS ARMATEURS PRESS CONTACTS
Antoine Person - antoine.person@lda.fr - T : + 33 (1) 70 38 60 00
Sylvie Virasack - sylvie.virasack@lda.fr - T : + 33 (1) 70 38 60 00
ABOUT ALCATEL-LUCENT (EURONEXT PARIS AND NYSE: ALU)
Alcatel-Lucent is the leading IP networking, ultra-broadband access and cloud technology specialist. We are dedicated to making global communications more innovative, sustainable and accessible for people, businesses and governments worldwide. Our mission is to invent and deliver trusted networks to help our customers unleash their value. Every success has its network.
 
For more information, visit Alcatel-Lucent on: http://www.alcatel-lucent.com, read the latest posts on the Alcatel-Lucent blog http://www.alcatel-lucent.com/blog and follow the Company on Twitter: http://twitter.com/Alcatel_Lucent.
CONTACTS PRESSE ALCATEL-LUCENT
SIMON POULTER - simon.poulter@alcatel-lucent.com - T : +33 (0)1 55 14 10 06
FRANCESCA CAZZANIGA - francesca.cazzaniga@alcatel-lucent.com - T : +33 (01) 60 40 11 96
RELATIONS AVEC LES INVESTISSEURS ALCATEL-LUCENT
MARISA BALDO - marisa.baldo@alcatel-lucent.com - T : +33 (0)1 55 14 11 20
JACQUES-OLIVIER VALLET - jacques-olivier.vallet@alcatel-lucent.com - T : +33 (0)1 55 14 12 49
TOM BEVILACQUA - thomas.bevilacqua@alcatel-lucent.com -    T : + 1 908-582-7998
Copyright: Alcatel-Lucent Submarine Networks / Louis Dreyfus Armateurs
Photo credit: J. Maillet