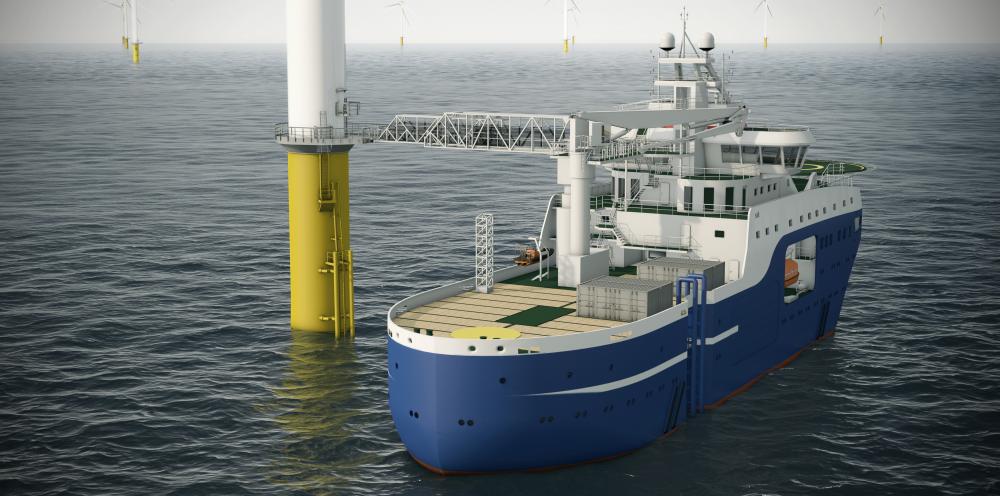 13 avril 2018
(Official English version)
The LOUIS DREYFUS ARMATEURS Group (LDA) and Ørsted, the Danish global leader in renewables, reinforce their 2017 partnership with the order of a second Service Operation Vessel (SOV) dedicated to Hornsea Project Two offshore windfarm off the English coast.
As sister vessel of the « WIND OF CHANGE », the first SOV ordered by LDA in 2017, this second ship will also be designed in close cooperation with Salt Ship Design and will be built by CEMRE for a delivery in 2021.
The new 84 meter-long ship will be equipped by a highly innovative hybrid propulsion system using Diesel generators with variable speed, and direct current propulsion network (DC grid) and the assistance of batteries capable to back up any faulty diesel generator.
This second ship will enable the wind farm technicians to transfer safely to the wind turbines thanks to a specially designed daughter craft (Work boat) and a dynamic motion compensated gangway as well as a helideck.
The ship will provide an accommodation capacity up to 60 local technicians who will enjoy the most modern comfort conditions with individual cabins, a gym and even a cinema!
"We are very pleased with this new partnership with Ørsted. This is a token of trust and renewed confidence from our Danish partner for our LDA know-how and skills. This new collaboration is part of our group strategy to develop marine industrial solutions and MRE activities. Through this second partnership and this new type of Service Operation Vessel, we are reaffirming our position in technological innovation and our commitment in favor of clean and renewable energy, essential for the future." says Edouard Louis-Dreyfus, President of the Louis Dreyfus Armateurs Group.
"We're delighted to have secured the delivery of this pioneering new vessel on highly competitive terms to help maintain Hornsea Project Two, which when built will be the largest offshore windfarm in the world. The hybrid DP2 propulsion system will lower carbon emissions for the operation and the vessel's walk to work system, Louis Dreyfus Armateurs' focus on safety, and the excellent cooperation between the two companies will help to ensure those working on the project can do so without harm and get home safely once their work is done.
"The vessel is the third SOV chartered by Ørsted to operate long term  from our multi million pound East Coast Hub operations facility currently being constructed in Grimsby." says Duncan Clark, Programme director for Hornsea Projects One and Two.
Press contact:
Sylvie Virasack Head of Communication Department - Louis Dreyfus Armateurs sylvie.virasack@lda.fr +33 (0)6 2224 4669
About Ørsted
The Ørsted vision is a world that runs entirely on green energy. Ørsted develops, constructs and operates offshore wind farms, bioenergy plants and innovative waste-to-energy solutions and provides smart energy products to its customers. Headquartered in Denmark, Ørsted employs 5,600 people, including over 900 in the UK. Ørsted's shares are listed on Nasdaq Copenhagen (Orsted). In 2017, the group's revenue was DKK 59.5 billion (EUR 8.0 billion). For more information on Ørsted, visit orsted.co.uk or follow us on Facebook, LinkedIn, Instagram and Twitter.
About Louis Dreyfus Armateurs
For more than 160 years, the LOUIS DREYFUS ARMATEURS Group (LDA) offers its clients tailor-made maritime solutions with high added value maritime activities and integrated services from ship design to maritime operations.
Through our Values (Innovation, Reactivity), we offer maritime transportation and services in the following dedicated services: Marine Industrial Solutions Division; Logistics & Transport Division and Dry Bulk Division. Offering a worldwide presence with over 2,300 staff and 60 vessels, LDA is a French family group with Headquarters based in France.
Read more: www.lda.fr and follow us on LinkedIn and Instagram.
Copyright: Louis Dreyfus Armateurs Photo credit: Louis Dreyfus Armateurs / Storm